Hot New Holiday Gifts & Proven Best Sellers Your Customers Will Love
2020 has certainly been a year unlike any other. While there have been challenges, this year has also made clear to people how much they value the connections they have with their friends and family. As the holiday season draws near, the appeal of unique, inspiring gifts that are imbued with meaning and positive energy is clear.
As jewelry wholesalers, we know *now* is the time when you're looking for the best new new age jewelry and unique gifts.
Here are the new items we've introduced in 2020, as well as a selection of our proven best-selling items. Everything arrives retail ready, with attractive displays that prompt impulse buying. High quality, lead-free hand crafted pewter, sterling silver, and hardwood jewelry and gift items are crafted to appeal to the crystal and stone shop buyer. Most items retail between $20- $30, depending on your market, and everything is covered by our Stay Sparkling guarantee – if your customers don't love a line, we'll swap it out for something they can't resist!
New for 2020 – Meaningful Gifts to Inspire and Delight
Oak Viking Rune Sets
Viking & Norse symbols have always been popular. Many people are especially drawn to them now for inspiration, divination, and guidance through turbulent times. This oak set includes all 24 Elder Futhark runes crafted in ¼" oak, a quick reference guide card, and velvet bag for storage.
Rune sets sell especially well when displayed with other divination tools, such as tarot cards and gemstone pendulums. What makes this set especially nice is they're hand-crafted, made in the USA, and light enough to carry conveniently in a pocket or purse. Great for the Viking on the go!
Interested in Wholesale Viking Jewelry?
Check out: Viking Spirit
Share the Love Charm Packs
Deva Design Pewter Pocket Charms put a smile on everyone's face. New for 2020 Share Packs feature heart, four leaf clover, or acorn charms printed with encouraging, nurturing affirmations. Share the Love, Share the Luck and Share the Strength all included in the retail pack. Individual units also available.
These are great holiday gifts, especially for Secret Santa exchanges or as stocking stuffers. They also have strong year-round appeal, with Share the Love selling especially well for Valentine's Day & Share the Strength during graduation season. And if you have a race track or casino nearby, Share the Luck practically sells itself.
Interested in Wholesale Pewter Charms? Check out: Pewter Charms
Resilience Rune Necklace
A best-seller from day one, the Resilience Rune Necklace is an exclusive design that includes the runes for Strength, Protection, Resilience and Victory on one side and the traditional Celtic Shield Knot, which warriors would paint on their shields to keep them safe in battle, on the other. The look and feel of this pendant is fantastic – retailers across the nation have had them sell out very quickly.
The Resilience Rune necklace is a fantastic gift for essential workers, including nurses, teachers, and first responders. The reversible nature of the pendant allows the recipient to wear it the way they like it best. We've taken dozens of pictures of this pendant, but none of them truly do it justice – expect to gasp with delight when you see it in person. Available in retail packs of 12 or by the piece.
Interested in Wholesale Magic Jewelry? Check out: Make Magick Happen
Yule Ornaments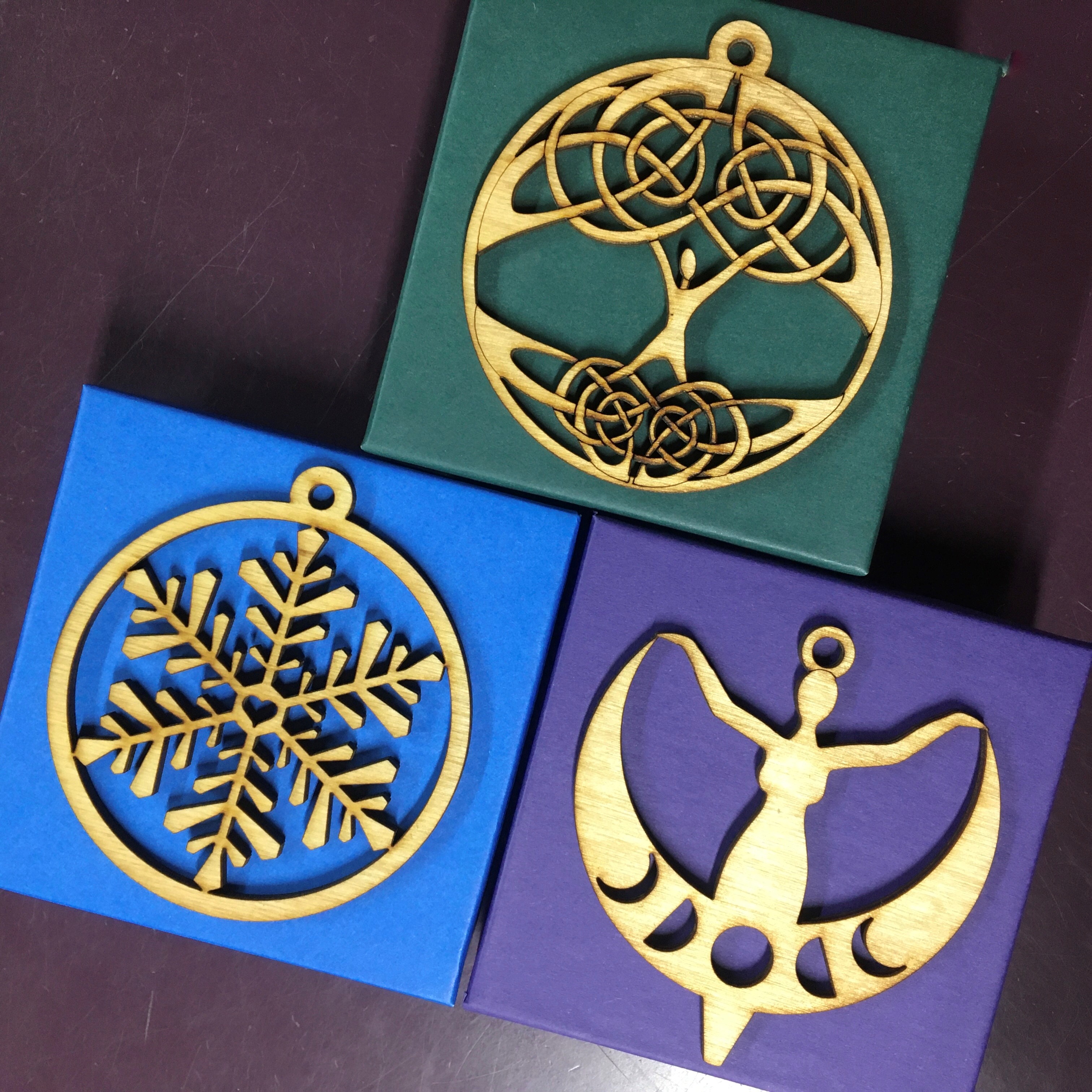 Holiday essential – Deva Designs Yule Ornament set includes 4 gift-boxed handcrafted wooden ornaments with celestial themes that appeal to everyone. An attractive, universally appealing holiday staple evokes the beauty of radiant star, moon and sunlight for those who celebrate Solstice, Hanukkah, Christmas, Kwanzaa and Diwali.
More information: https://devadesignsjoy.com/yule-ornaments/
Best-Selling Holiday Gift Favorites
Treasure Boxes – Now with Birchwood Inserts!
Our classic sleek stainless steel boxes with Goddess, Heart, Wolf, Tree of Life, Triquetra or Serenity sigils are the perfect stash boxes for small gifts, essential oil vials, crystals, wishes and more. We've upgraded the Treasure Boxes for 2020 with Birchwood Inserts, which deliver a more luxurious feel for a great price.
Treasure Boxes sell best when displayed by the items they could contain comfortably. They fly off the shelves in crystal & stone stores, and are a big hit in alternative culture retail. Durable metal retail display contains 12 pc – 2 of each style.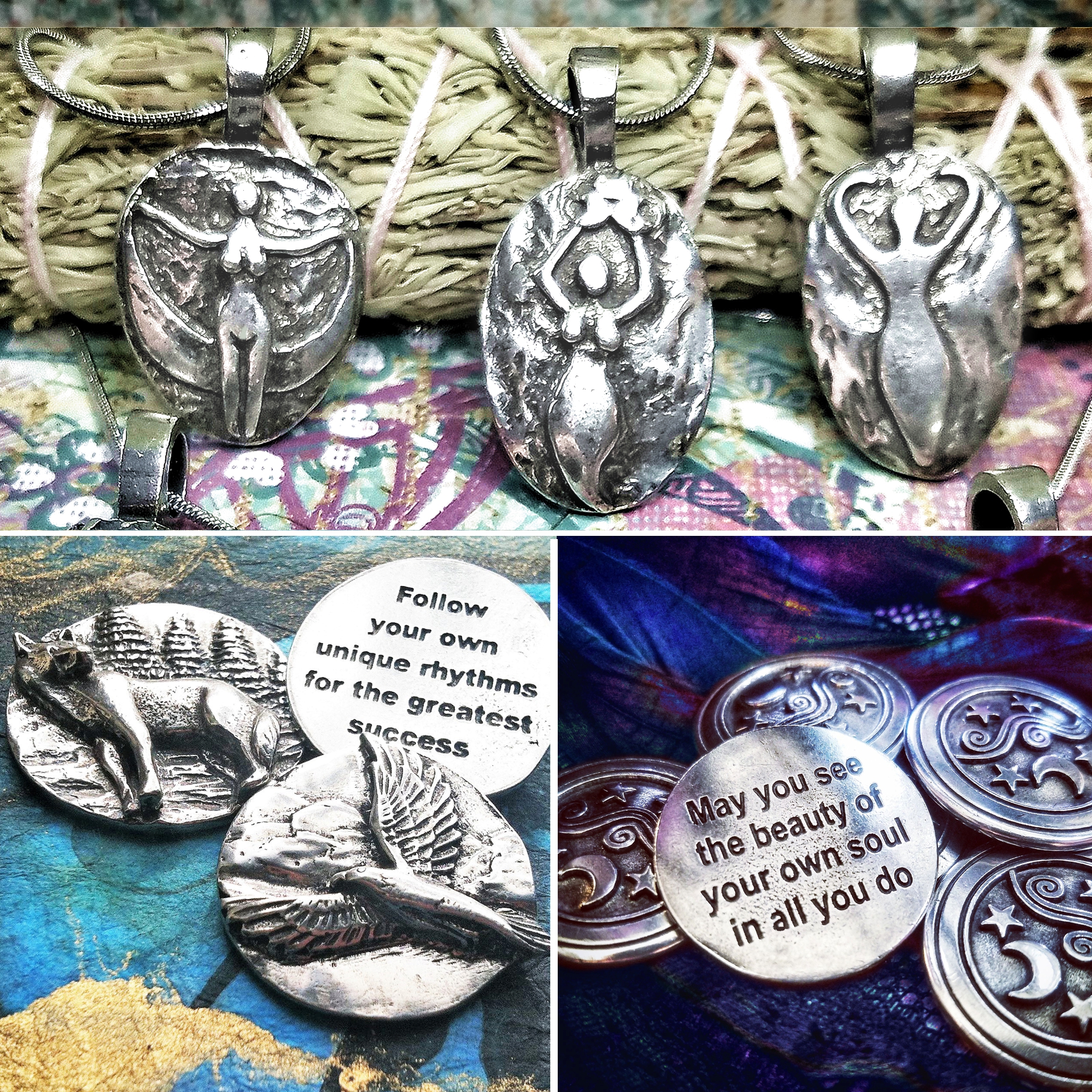 Interested in Wholesale Jewelry for Strong Women? Check out Celebrating Strong Women
Gemstone Pendulums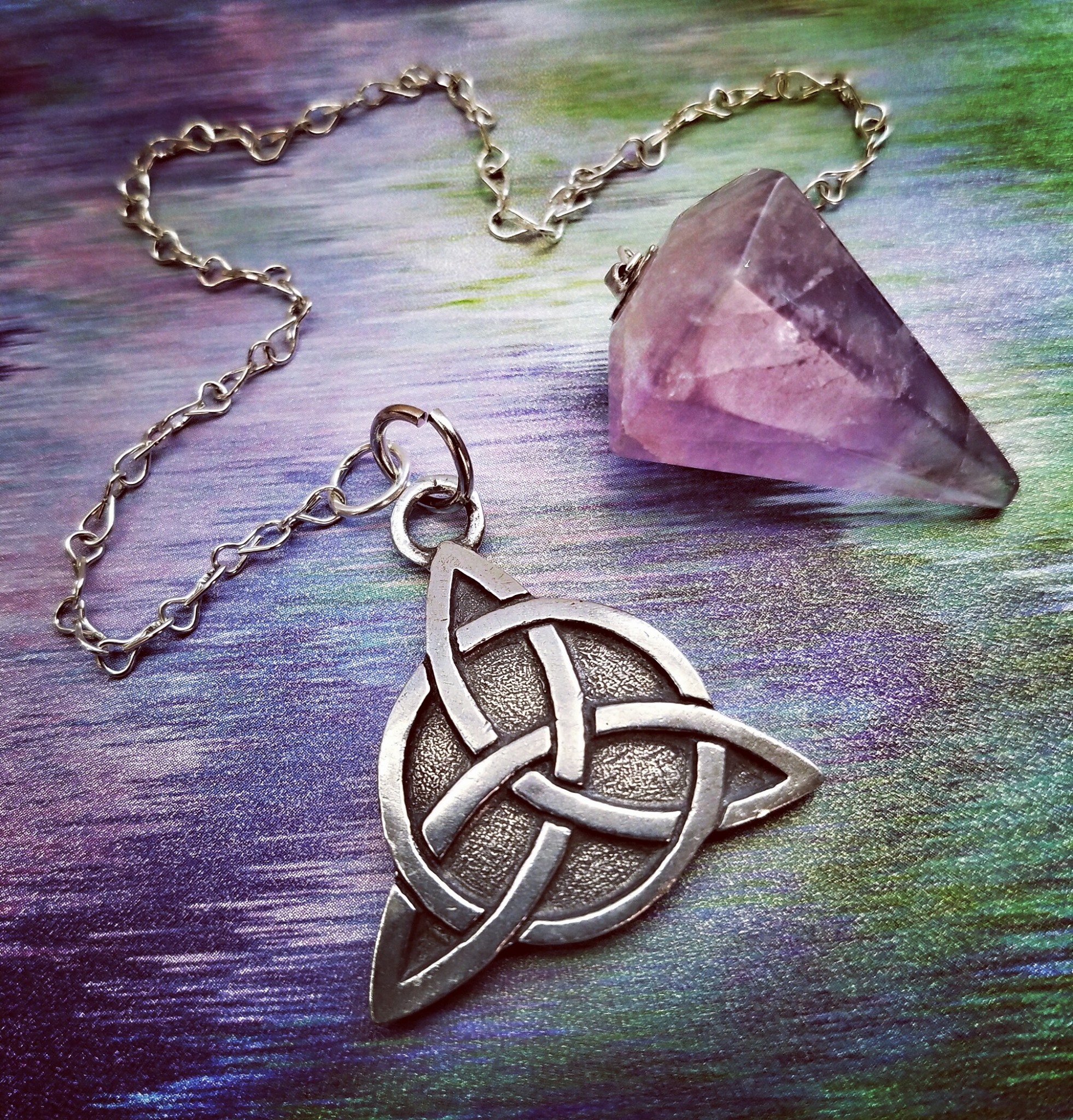 Dazzling natural gemstone pendulums help your customers strengthen their intuition. Seven different lines, each featuring beautiful hand cast pewter charms. A truly unique gift item that has been delighting metaphysical & New Age shoppers for decades. Gemstone pendulums retail for between $25 -$40, depending on your local market.
Celtic, Goddess, Heart and Moon & Star styles are all available with retail display when you buy two packs. All our pendulums are hand cut and polished from natural Brazilian stone, and include Amethyst, Clear Quartz, Hematite, Rose Quartz, Aventurine, Sodalite, and Smoky Quartz. For the widest selection, choose the best selling Gemstone Pendulum bundle.
Deva Designs is proud to offer the best wholesale jewelry for stone and crystal shops and mind body spirit stores. Shop Stones & Crystals products
Avalon Blessings Pendants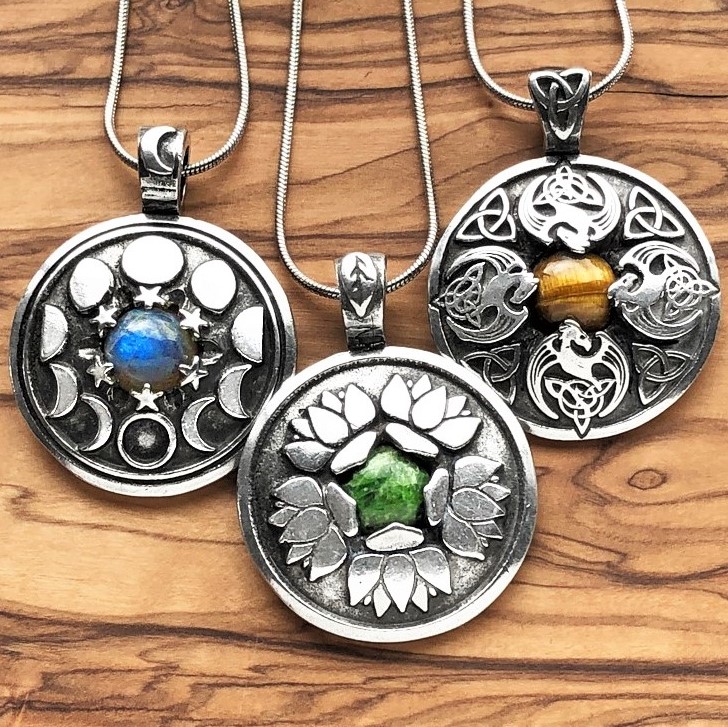 Powerful meaningful talismans, the Avalon Blessing Pendants feature gorgeous natural gemstones and affirming inscriptions including Peace to this Woman, Joy to this Woman, Courage to this Woman and more. Mandala style design is exquisitely detailed, with a high quality feel that makes the Avalon Blessing Pendant a great gift purchase or self-indulgence.
Pendants are 1.2" wide and come on a 18" stainless steel chain. Retail display makes delighting your customers super simple. Retail pack includes 18 pieces in 6 styles. We've found these sell extremely well in the checkout area, as well as when displayed with candles, crystals, and journals. A great gift for sweethearts, spouses, Moms, Grandmas, aunts, best friends and more.
Interested in wholesale Goddess jewelry? Check this out! Goddess gifts
Sun, Moon & Stars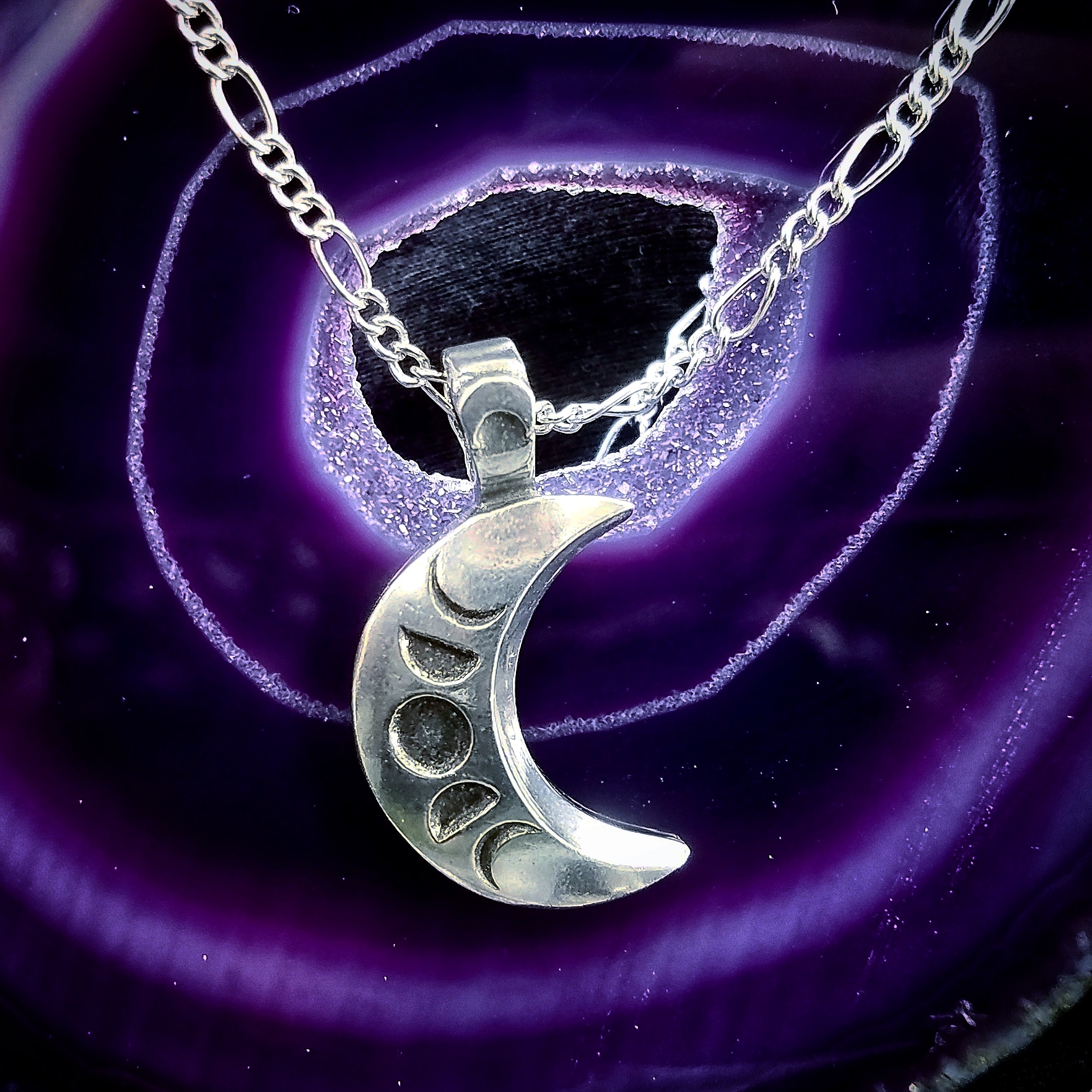 Lovers of the nighttime sky have been going wild for the Sun, Moon & Stars pendants. Six designs featuring celestial bodies with inspiring, uplifting affirmations hand crafted in pewter. This line has won multiple awards and consistently delights customers who choose it as a gift for someone special or for themselves. The Sun, Moon & Stars pendants retail between $20 – 30, depending on your market.
Affirmations include "My spirit is strong & shines like the sun", "Your light is within", and more. Retail pack includes 24 pieces and attractive metal display. See also the Sun, Moon & Stars pewter pocket charms!
Looking for wholesale moon jewelry? Check out the Celestial collection